GREETINGS FRIENDS AND
FUN-LOVERS ACROSS THE FRUITED PLAIN. TIME TO SEE WHAT'S BEEN GOING ON WITH THE CLASS OF '60. IT'S BEEN SIX MONTHS SINCE THE LAST NEWSLETTER, AND SOME INPUTS KEEP COMING IN, SO HERE'S THE LATEST FROM SOME OF OUR CLASSMATES.
IF YOU SENT SOMETHING AND I LEFT IT OUT, LET ME KNOW AND I WILL PUBLISH IT ALL RIGHT HERE. AS ALWAYS, PICTURES ARE MOST WELCOME.
​
AND, WITH THAT SAID, HERE WE GO:
Anita Lindholm Smith continues in her dedication to teaching music.
Here's a nice summary about her latest class and a great picture of the students.
​
Another year, another piano recital in Sherman, Ct.. .
Classics, Jazz, Blues, Movies and Broadway in solos, duets, and Lydia (the little princess in her striking blue dress) accompanied Sofia (the vocal soloist to my right) in a sweet song titled "Walk in a Rainbow".
The audience was made up of friends, and relatives and….. I must say the grandparents clapped the loudest! The reception afterwards allowed all to congratulate the students appropriately.
Students enjoyed playing on The Sherman Congregational Church's 125 year old Steinway Grand. I loved watching their faces when their little fingers brought up the strength of sound that floated out
from this beautiful instrument. They all learn to play on my Baldwin Baby Grand in my studio which isn't in the same league, sorry Mr. Baldwin!
Am so thankful that my husband Ed helps me with the necessary preparations ie: programs, advertising and year after year (requested by popular demand), his famous non-alcoholic berry punch with floating raspberry sherbet…but most important for his love and support.
Lyrics from "Walk in a Rainbow" sung by Sofia on June 23rd, 2019
Walk in a Rainbow when your feeling blue,
Walk in a Rainbow I will go with you…..
Start your Day out cheerfully
Keep your spirits high…..
Just walk in a Rainbow
You and I…….
​
She also sent a great picture with her husband, Ed, on the occasion of their 48th anniversary. Congratulations to you both!
​
Ben Lewis, after some prodding from his neighbor, Nancy Laun (Class of '66) was good enough to send a short, but very nice update of life in Pleasantville:
​
My wife, Terry, and I are living happily ever after in Pleasantville, NY. We have lived long enough to qualify for that status. We have a few manageable health issues but otherwise are doing fine. I spend much of my time in my Japanese garden. I'll just take more of the same thank you. Ben Lewis
Kevin Malone, Class of '59, has been part of the newsletter for some time, and sent a very nice update/summary for us. That's Kevin and wife, Nan, and they sure look good!
Kevin Robert Malone – In 150 Words (Or So)
I joined the Navy after high school, trained as an electronic technician, was honorably discharged after three years sea duty. I entered the University of Massachusetts Amherst, earned BBA and MBA degrees. My employment career was in college and university and not for profit financial management, including positions at Hampshire College, Harvard and MIT, and retired from final position as Chief Financial Officer for Red Cross Mass Bay, in Boston.
Currently married to my wife Nancy (divorced from my first wife, my second wife died of breast cancer). I have three children from my first marriage – daughter Tracey living in NYC with her husband, son Christopher is a federal agent, son Evan is a fire captain/paramedic.
We are currently living in a Boston suburb, with most energies devoted to volunteer work, including library trustee, housing authority commissioner, chair of local Council On Aging, and Episcopal diocese consultant.
Even youngsters on a questionable trajectory can eventually straighten out with proper guidance, motivation, willingness, and personal direction.
(Photo is with my wife Nan on a train trip through the Canadian Rockies.)
A nice note from Carol (Fisher) Post-Pfaelzer
Arthur and I and our cavapoo are doing well. Some medical problems for me too utterly boring to recount.
I sold my best friend's house in July but I am basically retired from residential real estate.I sold condos in Cambridge to many international lovely people for over 30 years and unfortunately even rented one to Jeffery Epstein-ugh-.I had a good run!
We are in a carriage house near my old home in Chestnut Hill. We sold it seven years ago and enjoy the carefree living, letting others worry about gutter cleaning etc. I am still involved at my church and care about my community. I would love to hear from the Class of '60. What a nice group of people we had in our class.Good memories for me.
Much love and best wishes to all.
She also gives us some charming pictures.
​
That's Carol with her grandson Danny. And there she is riding with a friend who restored a 1966 russian-made automobile. And finally, a family gathering at a flag football game. Here's the cast of characters:
Catherine,my daughter on left and next to me Betsy and Bill Fisher, my brother and wife Betsy Sherry who also went to Horace Greeley seven and ten yrs later than us. Next to my brother Bill is his daughter Brooke and my granddaughter Willa. Danny in the front is my grandson and Catherine's son.
​
Ed. Note: I have to admit that I didn't know what a Cavapoo is. Turns out that it is a cross between a poodle and a Cavalier King Charles Spaniel. There's an appropriately seasonal picture of one below.
Doug Hoeft's widow, LIbby very kindly sent an update about Doug's legacy to education in the years since his death.
​
Thank you for your communication. I guess it is time to let the class know what has transpired since Doug Hoeft's untimely death in 2002. Doug dedicated his life to education in the classroom, as a superintendent, and serving in the Illinois State Legislature for 10 years. His favorite thing was giving the scholarships which he was allotted from the state. When he died, the group which had worked to elect him dedicated the funds which had been raised for him to run for office to a scholarship foundation which I administer. We decided to give preference to students who had overcome challenges and had still had successful high school careers. We have given over one hundred scholarships to date and, thanks to his family and many other donors, have a healthy endowment to continue doing so. I have attached the latest letter which is sent to donors to inform them of the recipients. It is so gratifying that his dedication to education continues.
Doug loved his years at Horace Greeley High School. I am so glad we were able to be there for the 40th reunion. Regards to all.
​
Thanks so much, Libby. It's so good to know that his influence and contributions live on.
Our resident world traveler and all-around guru, Carlos Ballantyne reports in once again. Also gives us a picture of his continuing ability to stand on his head.
I currently live in Cottonwood, AZ, near Sedona where I go hiking in the mountains most days. An apparent heart problem 5 years ago (that turned out to be just using too much soy sauce) led me to an austere vegan food plan (Esselstyn) and, as a result, I've been able to trek in the Nepal Himalayas for 5 weeks each of the last 2 years. Having outlived most of my detractors, except for my only ex-wife who accused me of being responsible for that traffic jam on Everest, which I was NOT, as I was 10 miles away, I'm given increasing respect just for being myself.
My Trinity-Pawling experience (Matt Dann, David Tirrell, John Lloyd Owen, Jack Karpoe, Terrence Mattern, et al.) enabled me to matriculate at Dartmouth College, where I was twice expelled and, finally, to stop working at age 39, creating some detractors. I'm editing my autobiography as time permits.
​
(I am kind of embarrassed about this next entry.)
​
Penny Clark Nichols sent me a nice letter about a year ago, that I somehow misplaced, and neglected to put in the newsletter earlier this year. What can I say after I say I'm sorry? But, in any case, thanks for sending us this nice update, Penny.
And here is what she has to say:
"My husband Bruce and I have been married 51 years and have a son, Clark (48), father of our 2 grandkids, Mazy (11) and Luke (8), and a daughter Courtney (44), a happily unmarried career person. She lives in Chicago.
We just moved in September from suburban Chicago to Palm City, FL, which is about one hour south of Vero Beach."
Penny also went on the say that she would love to be in touch with Swede, Tom Stephens, Mary Ellen Walsh and Mimi Hoffarth Kuchieski. I passed the contact information to her at that time. Let me know if you didn't get it. She also says to remind Swede "You lived with Bruce in NYC."
I have Penny's contact information if anyone needs it. Just ask. I try not to publish addresses and phone numbers on the site in order to protect privacy.
Speaking of Swede Murphy, he checked in with news of a recent trip he and Peter Kilburn and their spouses made recently. And as you will note, he gave us some current pictures. (Everybody sure looks good.)
​
Here's the news:
​
My wife , Jayne and I just returned from a 5 day trip to Texas with Peter Kilburn and his wife, the former Natalie Walsh. We did tours of both Bush Libraries and the Kennedy tour at the Book Depository. We were in Austin, College Station, and Waco.
This summer we spent July in New London, NH. And at one time or another, all of our children and our 6 Grandkids were there. Our oldest Grandchild was looking at nearby Colleges. Where did all the years go? Hope all is well with everybody. Thanks, Swede.
​
​
Lynn Norton sends regards and a summary of what is going on in her life:
Sorry I haven't responded with updates for a long time. I retired at age 59 and pursued my dream of living on the coast. I chose Lincoln City a small "beach" town. Population of 7000 until summer when tourists bring it up to 35000. After 8 years, I tired of dreary winters and bought a second home in Gold Canyon, AZ. I spend about 6 months in each location so I have the best of both worlds. Several Nortons now live in the area. My brother and sister-in-law (Linda Cowlich) also live in Gold Canyon, sister (Jane) lives in nearby Mesa and my niece and her family live in Scottsdale.
I did lots of exciting and adventurous travels for ten years and now I only travel between by two homes. A few years ago, I tired of the drive back and forth so I bought a second car (a 2001 Civic with 25000 miles). I am now a single woman with 2 homes, 2 cars and no debt. You think I would find a Prince with that background. Actually, I have enjoyed my single life and stubborn independence. I enjoy and welcome visitors either place.
My brother Doug and Linda recently attended another high school reunion. This year it was at Bob Judd's at his wife's ranch in Montana. They have been pretty regular with yearly reunions.
Dave Lyons recently had a very interesting trip to France and has a great story to tell of a moving memorial to late wife Joanne's father and his death in WWII.
​
A 75th Memorial celebration was held in Rully, France for the father of my late first wife Joanne Fay Lyons, class of 1961, and Jan Fay Thompson class of 1959. General Patton's 5th Armored Recon leader was Lt. Col Kent Fay who was killed here on August 30, 1944 when his armored car was hit by a German 88mm gun….days after Paris was liberated on August 25th and 26th 1944. It was an amazing memorial site and ceremony that this little farm town, of maybe 300 people 25 miles north of Paris, organized for this emotional event in late August : French reenactors in US uniforms, vintage Jeeps, bag pipe band , color guard, motorcycle escorts, a French plane fly over , many local dignitaries, flora sprays, speeches by many including my son Kent, and an MC (Master of Ceremony) sent up by the US Embassy. Probably over 175 towns people attended the memorial and reception . Also, two French resistance fighters who were killed in the same action, were honored in a following event.
The top picture ( we have hundreds) shows the ten family members who traveled there. it included Jan Thompson, her daughter Whitney and her husband, Danny and her son David. Also there were myself and my three children , Suzanne, Sean and his son Ryder ( bow tie ), Kent and his long time French/Brazilian partner, Sylvie. She was invaluable as an interpreter helping the US Embassy MC who was an American who has worked there for many years as a policy expert.
On August 30 1944, a French farmer saved Col Fay's body by placing him in a wheel barrow with mattress and wheeled into the local church . Three of the farmer's four children are still living and are in their late 80's. That is Georges (with Ryder in the Jeep and also walking with Jan) who was laying in the ditch with his siblings during the 1944 action. That night , they placed the body on the altar of their little church and held a prayer vigil every hour over his body until retrieved by the Americans the next day as they were pushing on towards Belgium . The church was built in the 1200's and Joan of Arc supposedly prayed there in the 1400's. They opened the church for our ten family members. Through annual Christmas cards, I have communicated with the farmer's "children" and grand daughter/husband for 20 years since Joanne and I visited there. The Rully mayor arranged an initial memorial site there in 2000.
They still remember in this little French town….
And, since I, Dave Williams, am always bugging people for updates, I guess I should do one too....
​
Here in Washington, it has been "The Year of the Grandchild" for us. Jan and I attended/observed two college graduations, one high school graduation, one Air Force basic training graduation (for my granddaughter, Julia, whom I also had the honor of swearing in at her enlistment) two weddings (and one divorce) and the arrival of great-grandchild number 3. Number 4 is due in March. So you can pretty much infer what sort of travel schedule we have had. It's hard not to feel a little old when you're at a family gathering, a little one walks in and calls "Grandma," and your daughter answers.
But we also found time for a great road trip in August, through eastern Oregon, Idaho and to destinations Yellowstone and Grand Teton. It had been a long time since I had been there, and it was Jan's first time and we really enjoyed it. Great weather, beautiful scenery, and nice people. Of course I'm including some of the travel pictures for your perusal.
That's the Oregon Trail Interpretaive Center in Baker City, Oregon, then one of Jan and me at the overlook to the Grand Prismatic Spring in Yellowstone, and then the obligatory wildlife and scenery shots.
Speaking of road trips, Gay and Mary Mayer did a great trip earlier this year. They were on the road for about a month, mostly off the interstates, and saw a lot of small-town America. They did a very nicely written log of the trip with all sorts of observations that will resonate with everyone of our generation, particularly with respect to the changes to the countryside as a result of urbanization, industrial/agricultural evolution, and the interstate highways. It's pretty detailed and worth your time. Because of the length, I have made it into a separate web page, which you can access here.
I get periodic correspondence from Don Reynolds, Class of 1941. He sends greetings to all, and it's always good to hear from him. A virtual encyclopedia about things Chappaqua and Horace Greely school. Here's his latest note.
Hey Dave, My class was 1941 and I'm probably "last Leaf" for a while anyhow.
You guys hadn't even found the hospital delivery room in '41. But you graduated from the new high school out by the Digest bldg. Keep your gang together,
Kindest regards,
Don Reynolds '41
He also contributes to a web page that I have referenced before entitled "The Old Guard" for the classes of 1939-1950+. Interesting stuff which you can access here.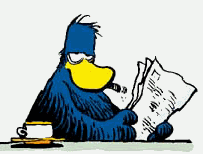 Well, I guess that's all for now.
As always, additional inputs are welcome and easily added.
​
I remain your humble servant and faithful editor.
​
Dave Williams,
14801 110th Ave. E. Puyallup, WA 98374
(253) 905-2751